Practice with your peers and instructors
On the last Thursday of the month, we hold a Blues Clinic from 7:30-8:30pm (Blues Basics class still happens at 8:30pm).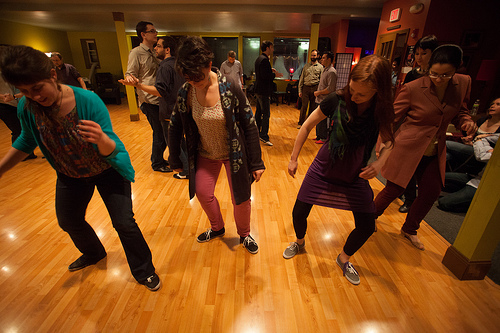 What is Blues Clinic?
The Blues Clinic is an opportunity to work one-on-one with our Blues Union instructors and to work with your friends and peers. Music plays in the background as people work together, and the instructors move around the room, working with people one-on-one or in couples. When not working with instructors, people work with peers, dance with each other, try new things they're working on, or try things the instructors have helped them with.
You can work on material from that month's series class, workshops you took recently, or anything you like!
What if I'm a beginner?
You're welcome to come to the blues clinic even if you've never danced before! On clinic weeks, we also still have our Blues Basics class as usual, from 8:30-9:30pm, if you prefer a structured group class.