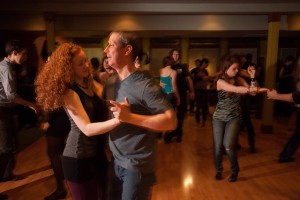 Come out and dance the blues with us every Thursday in Union Square, Somerville!
Blues Union is taking a new shape in 2020, and we're really excited about it!
Classes will remain weekly, in their current form (Extended Topics 7-8pm, Blues Basics 8-9pm) and will remain at Dance Union. On weeks that don't have a dance, there will be an organized outing to get food and/or drinks afterwards.
Dances will become monthly, and will have more of a special vibe. We're planning to start with live music every other month, have it be an excuse to dress up (whatever that means to each individual), and have a showcase, performance, or local mini-comp each time. The dances will also be 9-11:30pm every time.
Plus, it's now possible to pre-pay for a month of classes of either series. See our Tickets page for more details.
Blues Union requests that you refrain from wearing scented products at our events, including but not limited to colognes, after-shave, fragranced lotions, perfumes, hair spray, or similar products.
We appreciate your help in minimizing the barriers and difficulties experienced by people subjected to chemical/fragrance sensitivities, to the extent that this is possible. Thank you for making our spaces more accessible!
Learn more about fragrance & chemical sensitivities 
here
.
See what's happening this week at Blues Union.
Have questions? Check out our FAQ page.
Blues Union is located at Dance Union, upstairs at 16 Bow St, Somerville, MA.